Batam is an affordable, visitor-friendly, and all-around destination that has something for everyone. Regardless of your budget, preferences, age, or background, there are enough activities and attractions in Batam to keep you occupied. Our list of the top tourist attractions in Batam is based on feedback and suggestions from customers, friends.
Top Tourist Attractions In Batam, Indonesia
Maha Vihara Duta Maitreya Temple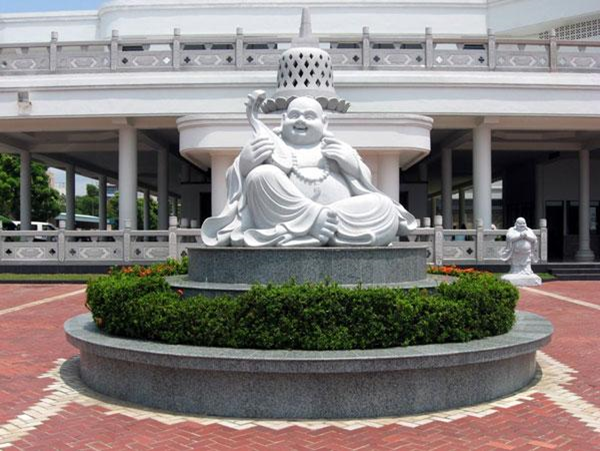 This temple is one of the more serene ways to enjoy Batam and is the place to come if you want to find some inner peace.
Devotees here usually burn incense for good luck and you can enjoy the colorful and elegant Buddha statues here as well as the carvings of twelve zodiac signs which lie opposite the temple.
One of the best things about the temple is that there is also a cafe here and you buy a range of delicious vegetarian food including buns and snacks in the shape of cute animals.
Penyengat Island
There are a number of islands around central Batam Island that are perfect for day trips and one of these is the stunning Penyengat Island.
It is not one of the largest islands in the area and you can walk around it in around two hours which means that if you get here early you can go for a walk before spending the afternoon sunbathing and then catch the spectacular sunset.
One point of interest on the island is the local mosque called Masjid Kuning (Yellow Mosque) and legend has it that eggshells were used in its construction to make the walls stronger.
The island is also a great place if you want to get a glimpse of how locals live in the less touristy parts of Batam.
Nongsa Beach
Nongsa Beach is one of the best places to come if you are in Batam and looking for some sand.
The beach has a relaxed atmosphere and is less crowded than some other places on the island.
It is also close to a range of amenities and you will find an array of eateries lining the beach that are a great spot if you fancy a spot of dinner or a drink while watching the sunset.
There are also some spas nearby and you can go for a paddle or a swim.
Barelang Bridge
Barelang Bridge is one of the top tourist attractions in Batam and people flock here in the late afternoon for the photo opportunities.
The bridge actually links main Batam Island with adjacent Galang Island and the bridge is a marvel of engineering as it majestically spans the water between these two islands.
If possible try to go around sunset for the best vistas across the water.
Pulau Abang
A beautiful island located south of Batam in the Riau Archipelago province, Pulau Abang is a tropic island with stunning corals and clear teal water with swaying palm trees and mangroves. Also called the Abang Islands, it is majorly famous for its day trips to indulge in snorkeling and diving. This mesmerizing dive site is surrounded by many small islands which are primarily conservation sites for the corals while the main Abang Island is only 10 square km.
The reason why underwater activities are so famous here is that it has a beautifully clean and absolutely untouched coral reef vegetation – the blue corals. It is these corals that attract most of the marine creatures and make it a lifetime experience for all tourists who opt for snorkeling.
Nagoya Hill Shopping Mall
Established in 2007, Nagoya Hill Shopping Mall is the largest shopping mall in Batam, which is a small island in the Riau Archipelago of Indonesia located in the South China Sea. The strategic location of the Mall makes it easily accessible for the local people of Batam and also for the tourists who stay in the nearby hotels. Nagoya Hill Shopping Mall is a one-stop destination for a complete range of retail goods at reasonably low prices.
The Nagoya Hill Shopping Mall has stores selling the latest devices like cell phones, cameras, laptops, household items, grocery, clothing, and a lot more. Besides these, this four-storeyed Mall also has food joints in the food street, spa centres, department stores, karaoke, and a theatre running latest English movies for people.