While Thailand and Indonesia may get the lion's share of attention, Vietnam definitely has its fair share of beautiful photography spots that are "Instagram Worthy". Whether it's natural wonders or gorgeous temples and pagodas, this country packs in epic spot after epic spot. Happily, they are all located in the best places to visit in Vietnam so they should be easy to fit into your Vietnam itinerary. Here are the most instagrammable places in Vietnam for you.
The Most Instagrammable Places In Vietnam
Muong Hoa Valley, Sapa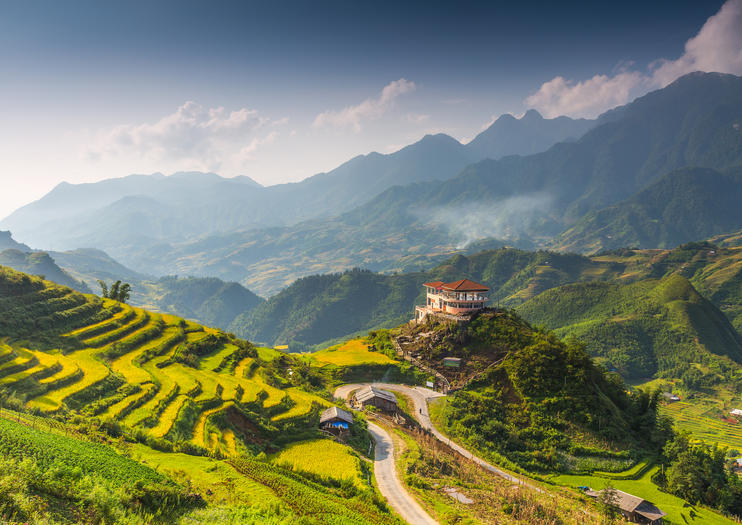 Muong Hoa Valley is a valley in Sapa surrounded by mountains on both sides, and is one of the most popular trekking spots in the region. You will have endless opportunities to take some of the most unique photographs here – of mountains, terraced rice fields, waterfalls and streams, and of course, the beautiful ethnic minority tribes people in their colorful attire going about their day. Spend the night at a homestay for more cultural insights.
Train Street – Hanoi
Train Street is an Instagram favourite, a narrow residential street with a train line running through the middle of it. The train itself comes within inches of the walls and it's a great spot to come and explore a bit of local life.
The classic shot is just walking on or beside the tracks, you can come at any time of day but we'd recommend coinciding your visit with the train times as it is a unique experience to watch. Read this post for more details on Train Street.
Ban Gioc-Detian Falls, Cao Bang
The Ban Gioc-Detian falls is on the border between China and Vietnam, and is the fourth largest waterfall along a national border in the world. Part of the waterfall is owned by China and the other part by Vietnam. They are an impressive sight in a highly scenic location and the way there is just as beautiful, if not more. On the way you can stop over at the Nguom Ngao caves, which you may even end up having to yourself! You'll barely see other foreign tourists in this area.
Lotte Tower – Hanoi
The Lotte Tower certainly has its cheesy sections, pose with the giant love hearts anyone? But its glass bottom section is undeniably photogenic, despite Hanoi not actually being the most pretty city to look at from above.
The smog creates a soft effect and standing on the glass was a fun experience too, especially as we went early morning and there was no one else around.
The trick is to go before 10.30am as the entry price is 50% off and you'll likely have the place to yourself. Alternatively you could go late at night for the same discount, but it would be more difficult to get the shots.
Entry is 230,000 dong per person (about $10 USD) at full price. Half price is offered between 8.30am – 10.30am and 10pm – 11pm.
Long Biên Bridge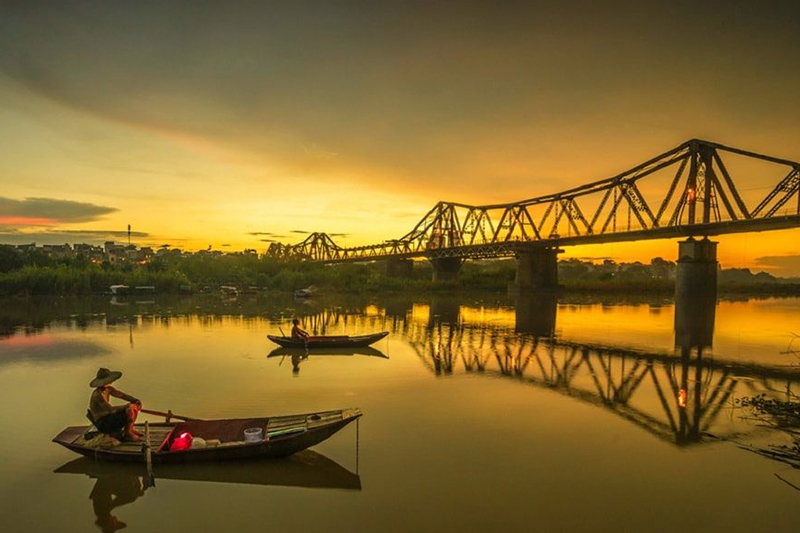 Built in 1902 by Parisian architects Daydé & Pillé, the Long Biên Bridge is one of the most instagrammable places in Vietnam, which spans the width of Hanoi's meandering Red River. Trains, motorbikes, and pedestrians still cross this historic steel bridge into the Old Quarter each day. Come in the early morning or just before sunset for incredible shots of the bridge and Banana Island below.
Ha Long Bay
This UNESCO-protected 75-mile long (120-kilometer) coastline features thousands of limestone karst peaks rising from the water, natural stalactite caves, picturesque islands and unique fishing villages. It is the most popular tourist destination in Vietnam and the best way to get around is by doing a tour.
Múa Caves
Some 500 steps stand between you and the impressive Tam Cốc viewpoint at Múa Caves. A cascading dragon and tiered pagoda are embedded high on the limestone karsts. Combine these with the spectacular panorama of the river system and submerged rice paddies below, and you have Instagram gold. Be sure to arrive early to beat the heat and the crowds.
Bản Giốc Waterfall
Firmly off the beaten path on Vietnam's Northern border, you'll meet the thundering Bản Giốc waterfalls. These powerful tiered falls surrounded by jutting mountain peaks have emerged as one of Vietnam's most mesmerising scenes. Don't forget to bring your passport as these falls sit on the border between Vietnam and China.