Nothing completes a travelling experience like a good cup of joe and a cosy spot to enjoy it. Fortunately, Yogyakarta is not short of splendid cafés to get your caffeine fix, get some work done, or relax and recharge in between adventures. Discover the best coffee shops in Yogyakarta, Indonesia here.
The Best Coffee Shops In Yogyakarta
Roaster and Bear
This coffee shop is very popular on social media, and for obvious reasons. It's Instagrammable interior has an earthy but industrial and modern feel to it, with large windows and wooden furnitures topped with endearing drawings of adorable bears on the white wall. Combine that with the stunning latte art and mouth-watering food presentation, and you got yourself a perfect social media post.
Blanco Coffee & Books
Its stylish but minimalistic vibe makes this coffee shop an excellent place to read or get some work done. It has an overall quiet and peaceful atmosphere with aesthetically pleasing details at every corner. The place even has a great selection of books on a big shelf to read as you sip on great coffee sourced from Indonesian communities.
Lantai Bumi Coffee & Space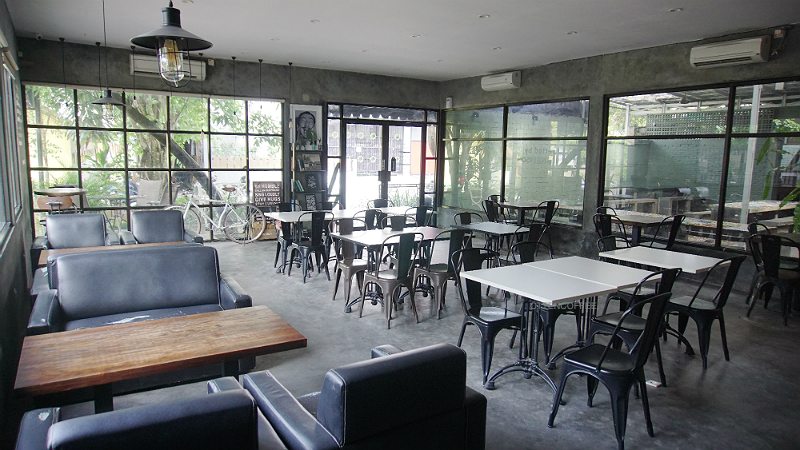 Located in the less touristy northern area of Yogyakarta, this coffee shop boasts a more intimate yet roomy space, with a relatively more affordable price than the ones near the city centre. Its minimalistic, distraction-free interior with lots of natural light and stunning details will help you maintain focus and keep energised while getting tasks done, studying, or even just enjoying their excellent coffee.
Sapulu Coffee
This cute little cafe with a fast internet connection is inside the Royal Palace area. It is part of the Guest House Chendela. Since this place is outdoors, it is a lot better to come early or late in the afternoon.
The cafe is on a busy road. If the sound of motorbikes passing you by is disturbing, then this is not the cafe for you. But, if you like a beautiful cozy small place with occasionally two cats wandering around you, then you will like Sapulu.
The coffee at Sapulu is nice, and they have a variety of interesting drinks. The cafe opens at 7 am. Cappuccino: Rp28,000.
Tekoff Coffee and Tea
Tekoff is tiny and feels cramped, but I don't know why it is a nice place. You realize how small it is because it gets confusing, arranging your laptop, coffee, and a cake on a tiny table.
If you are thinking to have a coffee/tea and read a book, or work but without the need for using a laptop, then Tekoff is a great place. The place is cozy and has a lot of shady areas.
Tekoff has a lovely terrace with bean bags. The best time to go is in the morning or later in the afternoon. They open at 8 am. Cappuccino: Rp23,000.
Simetri Coffee Roaster
Simetri is like a house. There are different rooms where you can sit. Some of them are dimly lit, while others have plenty of sunlight. The cafe is comfy, and it has a lot of big tables and cozy chairs. Their internet is pretty fast too.
Peacock Coffee (Peacockoffie Palagan)
Peacock Coffee is one of my favorite cafes to work when I was living in Palagan. It is not a big cafe, but very comfy and they are open 24 hours (OMG!).
Peacock Coffee is a great place to go if you are a morning person and want to get some work done early. Coffee is good, and there are a lot of plugs.
Ministry of Coffee
Located on Jalan Prawirotaman is the nice and airy Ministry of Coffee. The cafe/ hostel is spread over two floors and there is a small garden. The downstairs is a nice open space with plenty of light and good air circulation. The decor is restrained and simple and the coffee is pretty good. The food however is pretty unremarkable. Still, this is one of my favorite coffee shops in Yogyakarta.
Via Via
Via Via is one of the best coffee shops in Yogyakarta, which located on Jalan Prawirotaman and is a firm favorite with foreigners. While the food here is nice and it's a great place in the evenings to meet people and socialise, it's actually not that great a place to work in, because the seats are not really comfortable and the place is always busy!
Dixie
Dixie is a chain coffee shop located on Jalan Gejayan. The cafe is pretty large and like Ministry of Coffee, it is spread over two floors. The top floor has plenty of sofas and light flooding in from the large windows, while the downstairs is split up into seperate seating areas. The crowd here is a mixture of foreigners and locals and the coffee is tasty and cheap.